UNIZIK Post UTME Form for 2020/2021 Screening. We wish to use this opportunity to inform you and the general public that the Nnamdi Azikiwe University, Awka Post UTME Form is on the sales. If you have been searching for UNIZIK Post UTME Screening, UNIZIK Post UTME Form, Post UTME Registration, and UNIZIK Screening Date.
  You will also know UNIZIK Cut off mark 2020, UNIZIK Post UTME Screening Requirements, etc, bookmark and stay glued to this page, all the information is updated on this page as it is out at the school official Portal.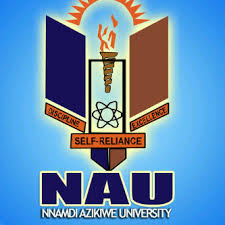 UNIZIK Post UTME Registration Form 2020
The Management of Nnamdi Azikiwe University has release the Post UTME Screening Form for 2020 Admission Screening. Keep visiting this page to get informed on other details concerning the Screening as they are given below:
Candidates who made Nnamdi Azikiwe University, Awka as First Choice University in the 2020 Unified Tertiary Matriculation Examination (UTME) will be invited to apply for an aptitude test, provided such candidates scored within the cut off mark. 
UNIZIK Post UTME Eligibility
Applicants must score up to the required cut of mark disclosed by the management to be 180.
Candidates who did not choose the school as their preferred choice of institution during UTME Registration should not proceed to apply because their application will be rejected.
UNIZIK Post UTME Cut off mark 2020
As already stated above, Student who wishes to take part in the UNIZIK Post UTME Registration and Screening must Score a Minimum of 180 in their UTME Excerpt for the department below:  
Faculties with UTME cut off mark of 180
1. Arts (All programmes except English)
2. Education
3. Agriculture
4. Environmental Sciences
5. Engineering (Agric & BioResources Eng., Polymer /
Textiles only)
6. Physical Sciences ( Mathematics, Statistics only)
7. Health Sciences and Technology (Radiography, Nursing science only)
How To Apply For UNIZIK Post UTME 2020
Visit the official website atwww.unizik.edu.ng for the Current Application Steps. The steps below can also be helpful.
Go to the University websitewww.unizik.edu.ng Click on "Create Account"
Proceed to enter your UTME Registration Number and valid email address and click "Send". A verification code will be sent to your email instantly
Copy the verification code and click on "Continue"
On the form, enter your phone number, password, verification code (copied from email), select the access level and click "Submit"
Your login details will be sent to your email address instantly
Continue with the application by logging in with the login credentials sent to your email
After successful login, click on "Step One", click on "Generate Application Form RRR"
Print the RRR (Remita) page, proceed to any bank of your choice nationwide to make a payment
Login to the portal, click "Step Two", click on "Confirm payment", enter the RRR number and click on "Verify payment". If payment confirmation is successful, or if you get a notification "Payment already verified", then proceed to "Step Three"
Click on "Step Three", click on "Fill Application Form", fill out the application form. You can save each stage of the application and continue at a later time. Also you can edit your information as often as possible within the application period
Check the "I Agree" box and click on "Submit" button
-Print out the Application form and come along with it for your screening and Post-UTME/DE examination
How much is UNIZIK Post UTME Screening Form 2020?
The Current Amount for the Post UTME Form is not yet Announced But the past For was N2,000
UNIZIK Post UTME Registration Closing Date
Nnamdi Azikiwe University, Awka (UNIZIK) 2020 Post UTME Screening Date is still under deliberation and will be announced as soon as it is out, it is possible that the form will  …. 2020, be updated. 
Duration of the Aptitude Test
Everything about the aptitude test including time and duration of the Aptitude Test has not yet been arranged
UNIZIK Post UTME Screening Requirements 2020
Apart from the requirements necessary to complete the Online Registrations for the 2020 UNIZIK Post UTME Screening. Students Should make Sure that The JAMB Original Result and other Documents not yet mentioned are ready.
Faculties Available in UNIZIK
Faculty of Agriculture
Faculty of Arts
Faculty of Basic Medical Sciences
Faculty of Biosciences
Faculty of Education
Faculty of Engineering
Faculty of Environmental Sciences
Faculty of Health Sciences and Technology
Faculty of Law
Faculty of Management Sciences
Faculty of Medicine
Faculty of Pharmaceutical Sciences
Faculty of Physical Sciences
Faculty of Social Sciences
SEE, AlSO CHECK JAMB RESULT
HOW TO ACCEPT AND REJECT ADMISSION ON JAMB PORTAL
ATTENTION!
You must enter a valid mobile number and e-mail address for further communications.
Those who fail to register within the period WILL NOT be qualified for the Aptitude Test.
Any candidate who fails to successfully submit his application online would automatically lose his/her chance of being considered for admission.
UNIZIK Vision and Mission
The overall vision of the University is to produce graduates with some core attributes.
Abroad spectrum of knowledge with specialization in a discipline
Logical reasoning
Oral and written communication skills and ability
Numeracy, and computer literacy
High ethical standards in personal and professional life
Strong sense of responsibility
Self confidence
Self-employability
The mission of the University is to use teaching, research, and public service to solve social problems. In the process of learning, students would be oriented to use their education in solving practical problems confronting them in the Nigerian society and beyond.
ln the discharge of its mission, the University shall live up to the ideals of the renowned statesman, Dr. Nnamdi Azikiwe, by making university education pragmatic, and using it to forge unity among the various communities in Nigeria.
It is hoped and expected that when the above vision has been achieved, graduates of the University will be Disciplined in behavior, Excellent in knowledge, and Self-Reliant in their chosen careers, in keeping With the Motto of the University; "Discipline, Excellence, and Self-Reliance".
I hope at this point the article is very Useful, kindly share it with friends using any of the platforms below.
ALSO, SEE