How to Use Letgo Mobile App. There are many people who do not have any knowledge of How to Use Letgo Mobile App. We, in our previous article, explained the meaning of Letgo, How to download Letgo mobile app on iPhone and Android. Here, we are going to Show you the step by step guide on How to Use Letgo Mobile App. Keep reading for the latest guide on How to Use Letgo Mobile App.
How to Use Letgo Mobile App
Letgo mobile app is easy to use. You must sign up before you can buy or sell. Simply launch the app and tap on the signup button to create an account. Here, you can tap a link to sign in through your Facebook account or enter information into the provided fields to continue. After you are logged in, you will be presented with the letgo home screen.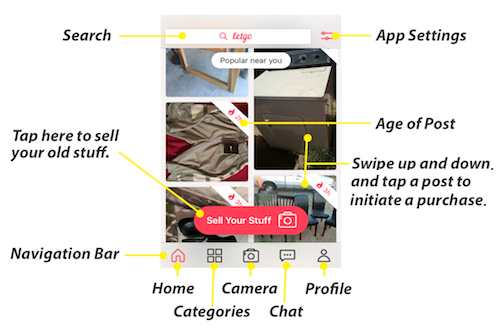 Everything you need is displayed on the letgo home screen.
On top of the home screen is a search bar. This allows you to perform item-specific searches that you can narrow down by category. The navigation bar along the bottom of the screen gives you a way to move around the application with ease. The navigation bar displays five icons, listed as follows:
Home: The Home icon on the screen shows you the main screen of the application. Here, you can view popular items, do searches, and set application settings, such as camera and location permissions.
Categories: The Categories icon on the screen is where you can shop by more generalized categories. For instance, Electronics, Garden, Household, Auto, and Office are some of the groups you will see when you tap this icon.
Camera: The Camera icon on the screen enables you to snap photos and add descriptions to items you wish to sell. This icon is where you will set prices and select categories.
Chat: Tap the Chat icon on the screen to see where all your contact with buyers and sellers will take place. This is where you can haggle prices, offer trades, and confirm sales.
Profile: The Profile icon on the screen shows your profile settings, a summary of your active posts, and favorite products.
When you open a post, you are presented with the image snapped by the seller, some brief information about the product, and a price. Just below the product description are two buttons. You can tap Ask a Question to inquire about the product or Make an Offer to immediately try to buy the product.
At this point, I hope the article, How to Use Letgo Mobile App, is very useful, kindly share it with friends.