Best Consignment Shops Near You in US: So you want that branded dress but don't have enough money. Not a problem. Visit the best consignment shops nearby. Definitely, you will get some real bargains. And that's not all.
You can buy clothing for the entire family. You can also buy household stuff, toys and games for kids at fairly low prices.
And just for your info, second-hand clothing resale is now a $24 billion industry in the USA alone.
But that's not all. Consignment shops are also a great way to make money by getting rid of your old stuff. Where to find the best clothing consignment shops near me…you might wonder.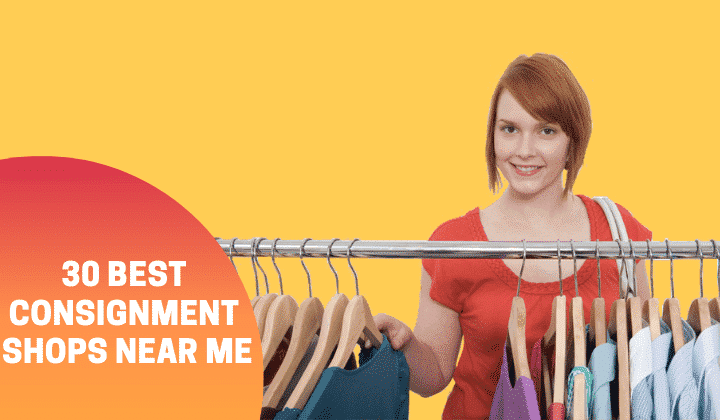 Here's a list of 30 best consignment stores I would suggest.
Consignment shops v/s Thrift stores
An obvious question you would ask: how are consignment stores different from thrift stores?
There are several differences, but let's deal with the main ones.
Thrift stores and consignment stores sell everything- from pre-owned clothing to household items, furniture and kiddie stuff. But there's a difference.
Consignment stores will curate or accept stuff that is in excellent condition for resale. Thrift stores will accept almost anything, regardless of its condition.
The reason is simple: When you consign something- the consignment store pays you money. In stark contrast, thrift stores only sell what you donate.
Despite these differences, consignment stores and thrift stores fiercely compete with one another to attract customers.
30 Best Consignment Stores nearby you can check
Almost every city and town in America will have at least one consignment store if you find best consignment stores near me. Yet, if you can't find one for any reason or wish to try others, here's my list for you if you are seeking best consignment stores near me. Some of these operate online only.
1. The RealReal
If you are looking for luxury stuff, The RealReal is your place. They have stores in New York, San Francisco and Las Vegas. And they are opening newer locations too in New Jersey and California. The RealReal has a tie-up with fashion brand Stella McCartney.
The RealReal also established first Monday of October as National Consignment Day. Enjoy a 25 percent discount on your first purchase by signing up at The RealReal.
2. ThredUp
Try ThredUp if you can't visit a consignment shop or find one nearby. ThredUp is America's largest online consignment and thrift store. They also operate from five locations in California. ThredUp has an amazing collection of branded and luxury clothing for women and kids.
You can also buy superb pre-owned bags, accessories and jewellery from Thred Up. Or you can sell such stuff to ThredUp. You can get up to 20 percent off on first order by signing up on the website.
3. Buffalo Exchange
Looking for brick-and-mortar consignment stores? Check if there's a Buffalo Exchange nearby. They operate 50 stores across 19 states. All types of pre-owned clothing for women, men, teens and kids are available at Buffalo Exchange. You can also sell used stuff to Buffalo Exchange for cash or trade-in for dresses.
4. Tradesy
Get $50 off on your first purchase of $400 or more and buying with credit are some facilities you enjoy with Tradesy, one of the topmost online consignment stores in America. Selling on Tradesy is simple.
They send you a free shipping kit to pack the stuff and mail. Tradesy buys and sells only designer stuff for women including garments, shoes, bags, accessories and jewellery. You can deal with Tradesy through their Android and iPhone apps too.
5. Crossroads Trading
Crossroads Trading looks for pre-owned garments and accessories that are currently in fashion. This means you can buy, sell or trade the latest trends here. For sellers, Crossroads Trading offers four choices for sellers: in-store, drop-off, consignment or mail.
You can opt for cash or get credit to buy clothes, bags, accessories, jewellery and other stuff from Crossroads Trading. They have stores across the US. Hence, you can find one nearby.
6. Beacon's Closet
Another best consignment shop is Beacon's Closet, which operates at four locations in New York. You can buy, sell and trade modern and vintage clothing at Beacon's Closet.
Since they operate through brick-and-mortar stores, I suggest you visit their nearest consignment shop to get the best deals. Their trade-in facility allows you to get excellent clothing at very attractive prices.
7. Plato's Closet
Plato's Closet offers trendy clothing at prices up to 70 percent cheaper than malls. They have consignment shops in most states across the US. For clothing sellers, they have a rather quick, four-step process. Take the stuff to their nearest consignment shop.
You can find one nearby by searching with your ZIP or postal code. Experts at the store assess your clothing and make an offer. If you accept, they add cash to help you buy something you might like.
8. Poshmark
Poshmark says it has paid over a billion Dollars to sellers. It is one of the largest online consignment stores in America. Poshmark has a very simple process to sell your clothing, footwear and accessories online. Register as a member on their website, take and upload pictures of the stuff you are selling.
The company sends you labels for mailing your stuff through USPS Priority Mail. They pay you when the package is received. Poshmark also sells amazing clothing, shoes and accessories from sellers at very competitive rates. You can use their Android and iPhone apps too.
9. eBay
Perhaps you are unaware about eBay's consignment shop. Actually, eBay does not buy or sell your stuff directly. Instead, it serves as a platform to connect with other sellers. Here in eBay consignment stores, you can sell coins, stamps, clothing, footwear, paintings, furniture, toys, vintage items and lots more. Joining eBay Consignment is an excellent idea if you have something to sell. In case you can't find a category of items you wish to sell, request eBay for adding it.
SEE
10. Showroom Finder
Showroom Finder is not exactly the best consignment shop. However, it is a website that can help find the nearest and best consignment shop. If you wish to sell on consignment, they have an online resource to create and post own shop.
This makes Showroom Finder a favourite of bargain hunters and consignment sellers. Also, look for store updates on their websites. Here you can find some amazing stuff at unbelievable rates.
11. The Wasteland
You can find The Wasteland at four locations in California. These include Santa Monica, Studio City, Los Angeles and San Francisco. The Wasteland is the best consignment shop with a difference if you need money instantly. They pay you flat 35 percent of the retail price they will charge your stuff.
This isn't really unfair since your stuff might never sell and cause them to lose money. And they are picky about what they buy from you. Buying clothing at The Wasteland is a wonderful experience: you get latest, designer and branded stuff.
12. Material World
Designer items at 90 percent off over retail? I'm not kidding. This is exactly what Material World offers. Subscribe to their Material Box service. They charge $29 as a styling fee for five items. The fee is refunded if you keep only one item.
Material World buys and sells only high fashion, designer clothing for women. If you are crazy about the latest fashions, check Material World, a unique consignment shop that serves across America.
13. Vestiaire Collective
Looking for something not available in the USA? Visit Vestaire Collective. It is a global online marketplace for pre-owned designer clothing, accessories, footwear, bags, watches and much more. Meaning, you can find stuff sold by people around the world.
They offer an authentic and curated catalogue for designer stuff. Means, whatever stuff you sell will be certified as genuine by their curators. And if you are buying, it is the assurance of getting the originals only. Regardless of whether you are selling or buying at Vestaire Collective, their prices are very attractive.
14. Depop
Depop is a superb place to buy or sell vintage stuff. It is not what you'd expect from an ordinary consignment store. Instead, Depop is a marketplace that connects people selling old stuff from clothing to paintings and collectables.
You can also buy stuff sold on consignment by budding designers and collectors. You can buy pre-owned and new stuff on Depop, depending upon what you need.
15. Resee
Resee ships worldwide with zero duties to Europe and USA, says their website. They operate from Paris, one of the fashion capitals of the world. And they buy and sell very exclusive vintage designer clothing as well as haute couture only. All the stuff you sell or buy is carefully curated to ensure only the very best enters the market.
Resee is among the best online consignment shops if you are looking for fashions that existed some years ago. The company believes in keeping all fashions in style and evergreen.
Resee is quite expensive if one sees their tag prices. But considering what a new piece would cost, they charge a fraction of the price.
16. Rebag
Are you a woman that loves handbags? Then Rebag has something you might just love. They buy, curate and sell exclusive bags from topmost designers of the world. And they don't cost a fortune either.
Rebag often conducts sales and gives special offers. You can get joining discounts and other benefits by signing up on Rebag. They operate online and through six stores located in California and New York.
17. Secondi Consignment
Contemporary women's clothing, bags and accessories from topmost brands is what this Consignment shop buys and sells. As the seller, you will require an appointment to meet Secondi Consignment's curators and get the stuff assessed for authenticity and value. They are very selective about what they buy and what they sell.
18. Fury Consignment
Fury Consignment operates in Seattle, WA. It is an all-women's consignment store. Fury Consignment accepts clothing and other upmarket stuff only from non-smoking households. They have very stringent quality control that can prove a hassle for any seller. But for buyers, it ensures the best possible deals.
19. Kidizen
Kidizen is among those kids consignment shops that work for all moms. It is a community of moms to buy, sell and trade everything that kids require. If you are a mom and would love to give the best to the child, I suggest you check out the website and app for children's consignment shops.
Here you can trade clothing, toys and other kiddie stuff as your child grows and get stuff to match their age. Since kids grow fast, you would definitely know the expenses in buying stuff. You can also sell or buy kiddie stuff on Kidizen.
20. Seconds City
This is one of the great furniture consignment shops for you if you live near Parma Heights, Ohio. This consignment store is everything about furniture and furnishings. If you live in or around this city and looking for furniture consignment stores near me, this is an excellent store to sell used and unwanted furniture or simply donate for charity.
Seconds City curates all furniture carefully. You can get 50 percent of their sale price by opting for credit to buy from their store. Or, receive 25 percent cash of their retail price for your stuff.
21. Rebuilders Exchange
Surplus construction material, paint, electrical fittings, plumbing accessories and lots more are available at very low prices from Rebuilders Exchange.
They are among unique consignment shops that allow you to sell all the stuff that is left over after building or repairing your house. This is one of the best consignment shops of its kind in America and operates from Cleveland, Ohio.
22. Bagsy
For every kiddie clothing, Bagsy is the best consignment shop that operates online and functions across America. You can sell or buy clothing, shoes and motley other kiddie stuff on this website.
To consign, you can order a free 'bag' from Bagsy. These bags come with two options: you can request Bagsy to return any unsold stuff that you send. Or, you can donate them to some needy children.
23. Transitional Design
Located in Broadview Heights, Ohio, you can sell or buy furniture, home décor and certain categories of clothing on Transitional Design. The unique feature of this consignment store is its online auctions.
Anyone in the USA can bid at these auctions to get some fabulous stuff at very low rates. Transitional Design also conducts classes to teach furniture restoration and other skills.
24. My Sisters' Attic
My Sisters' Attic has two more divisions, My Sisters' Closet and Well Suited. Together, they offer everything from exquisite furniture and home décor items to clothing for women, kids and men. My Sisters' Attic operates mainly in Arizona. They have the best consignment shops in California.
You can consign wall hangings and paintings, rugs, sofas, chairs and almost every other furniture piece to My Sisters' Attic. If you wish to consign clothing, approach My Sisters 'Closet and Well Suited. They also accept donations for My Sisters' Charities.
25. Let Go
You can sell or buy almost anything at Let Go. And you can give away or get stuff for free. Let Go is all about giving away stuff you no longer need for cash or simply to help someone. Let Go also has an app that you can download.
It is a very extensive website where you can get anything from free bicycles for kids to bricks to repair a home. Or you can buy exclusive foreign made pendants, mobile accessories and loads of usual stuff. Excellent if you are looking for inexpensive furniture or kiddie stuff.
26. Rags Consignment
Rags Consignment is among the best consignment shops if you are living in or around Boulder or Denver, Colorado. The best feature of Rags Consignment is the very extensive range of brands they accept from sellers.
When you look for consignment shops near me that buy clothes, you can consider Rags Consignment to buy clothing from these brands at truly affordable prices.
Their prices are a fraction of what you would pay at a boutique or mall. Rags Consignment allows you to bring in as many as 30 pieces of clothing per day. You get cash or buying credit from this store.
27. Mercari
Mercari is one of the best consignment shops because it works only as an app. Yes, As an app. This means you can use it from almost every location. You can take pictures and upload them instantly on Mercari.
However, you cannot sell directly to Mercari. Instead, you need to find own customers. Mercari charges a flat 10 percent commission on your sales, which is quite low. But the amount is fair enough considering this is a Do It Yourself consignment app.
28. Chairish
Should you wish to sell antique or branded furniture, check out Chairish. They have a wonderful antique consignment shop where you can sell such stuff and get amazing prices. Or you can opt for credit and buy furniture from their store.
They provide free listings according to the category of consigner you select. There is a paid service coming up with Chairish for regular consignment sellers.
29. LePrix
LePrix is known among the best consignment shops to sell or buy the designer wear that you'd find only at upscale boutiques. In fact, LePrix has a network of over 500 consignment boutique partners across the US.
Original designer clothing and accessories available from LePrix looks as good as new. Because the company cares about what it gets and sells. For sellers, they have two options: you can take the stuff to their partner consignment boutique nearby or ship for free to the company.
30. Worthy
Over $24billion worth jewellery, watches and diamonds have been sold by Worthy- a premium online consignment shop. You can sell any type of jewellery and expensive watches or even engagement and wedding rings on Worthy.
To ensure you get the best price for anything you sell or buy, Worthy gets certification for each item from Gemological Institute of America (GIA).
Making Money with Consignment shops
Anyone who is looking for clothing consignment stores near me, this is one of the best. As I mentioned earlier, consigning stuff to a consignment store is a legit and marvellous way to make some money while disposing of unwanted stuff.
Before you consign, go through the list of 30 best consignment shops I list above. The reason? Some consignment shops will pay you only 30 percent of the price at which they sell your stuff.
Meaning, if someone buys your clothing for $10, the consignment store will pay you only $3. While others pay higher- $5- but not as cash. Instead, they will provide shopping credit. This means you can buy stuff from the same consignment shops with your shopping credit.
Buying from Consignment shops
Buying from these best consignment shops can save you a fortune. Most of them sell stuff from designers and reputed brands only.
The items are curated, meaning, they are inspected for damage and other defects as well as authenticity. Hence, you get originals.
Buying from consignment stores often makes sense when you are looking for something that is uncommon in the market, even when you have the money to pay for expensive stuff.
Conclusion
That is to say, if you are wondering, which are the best consignment shops near me, I hope my list meets your needs.
Moreover, always do some research before you buy or consign. Download an app from any good consignment store. It will give some ideas to make more money out of it by consigning or what to pay for an amazing dress.
In addition, most consignment shops are on Facebook. Check their posts regularly. You might find something unique at a real bargain price.
I hope the article above, on the topic ' Best Consignment Shops Near You in US, was very helpful to you. The above information was gathered from different sources to serve you better. kindly share it with friends on any of the social media below.