Welcome friends, Today I am going to guide you on Money-Saving Tricks for All Retirees. Retirement is something for which most women and men look forward. Understandably, it means you break away from routine work and commutes to lead tranquil and leisurely life.
Indeed, retirement can be pleasurable, provided you plan for it during working days and well in advance.
Since your regular income from a job will cease, it is imperative to plan for getting money from other sources. These would generally include annuities and pension schemes, bonds, stocks, Mutual Funds, savings plans and other investments made during active days.
Though you may have stashed considerable money by investments, retirement can prove very tricky. Unexpected expenses may crop up.
With lifespan of Americans rising over the years due to better healthcare, chances are, you could well run out of money unless you are prudent with spending.
Therefore, here are 10 simple money saving tricks that any retiree can effectively utilize. They can help prevent you from running out of cash or downsizing your lifestyle at advanced age.
Money Saving Tricks for Retirees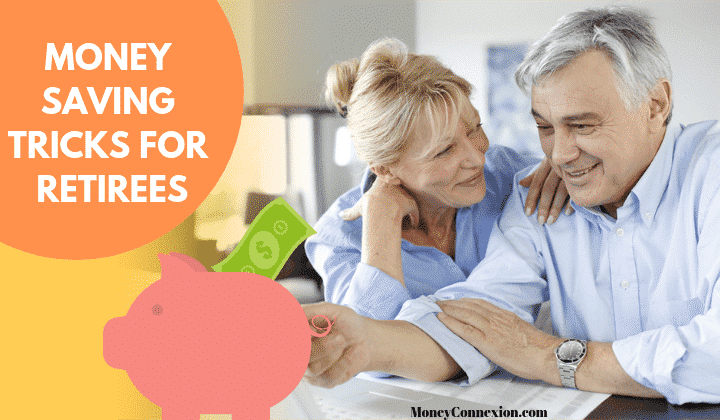 Getting old may not be something very desirable for many of us. But it is imminent for every living being on this planet. If you are serious about saving money and making best out of your retirement, read on.
1. Stay Healthy
Staying healthy is the first trick to save money as retiree. Healthcare costs in the US are on the rise, albeit slightly, according to reports by various reputed companies. Average healthcare costs for a senior couple stand at whopping US$280,000 reports Fidelity Investments.
You may have excellent healthcare coverage. But what about those out-of-pocket expenses? Further, medical insurance does not cover several other costs.
Meaning, you would have to cough up that extra money. Instead, maintaining excellent health as retiree can help you save money on unwanted medical expenses.
Avail Senior Discounts
Thousands of businesses across America offer senior discounts. Take membership of American Association of Retired Persons. It costs US$16 per year and is renewable. An AARP card gets you great senior discounts- up to 10 percent or even more in some cases, at various stores and service providers.
Restaurants like McDonald's and stores including Kohl's and Walmart offer discounts on certain days for senior shoppers both in-store and online. You will need to prove age while availing such discounts.
Generally, senior discounts are available to retirees aged 60 and more.
There are several websites that provide discount codes and coupons for seniors for in-store and online shopping. Utilize these free coupons and codes to save money on groceries, medicines and other essentials.
SEE
Take Side Gig
As retiree, you will have ample spare time on hands. Definitely, you will not spend it watching TV, surfing Internet, reading books or some other leisurely activity. Instead, spend a couple of hours daily by taking an easy online, work-from-home job.
In fact, taking a part-time work from home job gives you that sense of independence. You can utilize all skills and work experience to make extra money from home.
There are amazing health benefits of taking a work from home job for retirees. In fact, lots of American employers look at hiring retirees with the right skills.
Avoid & Pay Off Credit
Credit such as mortgage, loans and credit cards come with heavy interest rates. They eat into your income from retirement plans and investments. Ideally, you should pay them off while still working and before retirement. But if you have some credit as retiree, there is nothing to worry.
If you are retiree saddled with credit, try to wipe it off at the earliest. Paying off credit ensures you do not have to dig further into your savings or pay from income from investments. You may have to minimize expenses for some time but the effort will prove worthwhile.
Boost Your Savings
Majority of American retirees remain blissfully unaware they can boost their savings. It can be done at any age and with whatever money you have for retirement.
There are excellent ways and means to boost your savings and get higher returns as retiree. And these are available from trustworthy sources too.
It is also possible to boost your 401(k) by consulting a financial advisor. This can provide you some excellent returns you never believed were possible.
In fact, there are lots of tricks and tweaks for boosting your 401(k) and Roth 401 (k). Check this out with a good financial planner.
Also look for good Individual Retirement Schemes (IRAs). Generally, taking separate IRAs for spouse and self is a better option.
Cut Big-3 Costs
The big three costs for any retiree are transportation, food and housing. They will take bulk of your money. With some study and planning, you can lower these big three expenses too.
The first is by cutting transport costs. Since you will not commute to work, using public transport works out cheaper than driving own car.
Cutting costs on housing may not be directly possible. Yet, you can rent a room at your house to travelers through Airbnb. This helps make extra money and defray mortgage, if you still have one.
Also, shop online for groceries using coupons and codes. Buying during sales often helps save a lot of money for retirees, since you get higher discounts.
Relocate to Other City
America has some great cities for retirees. They offer various benefits like lower taxes, excellent healthcare facilities and safety, among others. You can consider moving home to any of these cities. Refer to the list of cities that are most retiree-friendly.
Understandably, there are lots of debates whether you should relocate to a new place upon retirement. Some experts advise staying in the same city since you are familiar to the place and have relatives and friends.
Others suggest relocation because it saves a lot of money. Relocating to a newer place means you can buy a smaller retirement home and save taxes and other expenses.
Moving Abroad?
Thousands of Americans move abroad post retirement. It helps them save living costs and taxes. Over nine million Americans were staying abroad as retirees, according to the US State Department figures for 2016.
If you are comfortable with adapting to a foreign culture and climate, consider moving abroad as retiree. It helps when you have lesser money too.
However, retiring abroad needs careful planning. It is not something to do overnight or rush into blindly. While you can save money by moving abroad, you need to consider several things such as overall safety, healthcare facilities, taxation and comfort.
Take Holidays Abroad
Yes, taking holidays abroad can actually help you save money as retiree. This is due to currency exchange rates between the American Dollar and other currencies. However, this will require some planning. Or you can simply contact your travel agent and get details.
There are ample volunteering opportunities across the world available for retirees. Organizations that need volunteers will not pay you any money.
Yet, they will provide basic needs like food and shelter. Volunteering as retiree helps you travel and experience different countries for cheap.
Make Good Budget
This goes without saying that drawing astute household budgeting helps save lots of money. There is no point in stockpiling stuff you do not need or may never use. Instead, buy only things that are necessary for a week or month, at best: you can always replenish supplies.
Use a good budgeting app to keep track of expenses. They help identify where your money goes. Some apps also provide alerts when you exceed a preset limit under any particular head like food, entertainment and transport, among others.
Budgeting helps save frivolous expenses from your retirement income.
Conclusion
Saving money as retiree is very important. As your age advances, options of finding more money reduce exponentially. Definitely, you would not like to go without proper food, clothing and shelter as senior citizen.
Unfortunately, most Americans do not have sufficient funds for retirement, finds various studies. If you are a retiree, try these money saving tricks now. And if you are planning to retire, these tips will definitely come handy.
I hope the article above, on the topic ' Money-Saving Tricks for All Retirees, was very helpful to you. The above information was gathered from different sources to serve you better. kindly share it with friends on any of the social media below.