Best Online Jobs from Home without Experience: Getting a job isn't easy anymore. You require experience and skills. In this situation, what does a person who is looking for a no experience jobs and who has limited skills do?
Actually, such people also can find entry-level work from home jobs. There are over 50 no experience online jobs from home, they can easily find and take. These jobs usually pay over $15 per hour, which is fairly reasonable. And you've flexible work hours. The more you work, higher your pay.
Therefore, if you're among such people, I encourage you to apply for any of these 50 online jobs that require no experience.
Best 50 No Experience Online Jobs from Home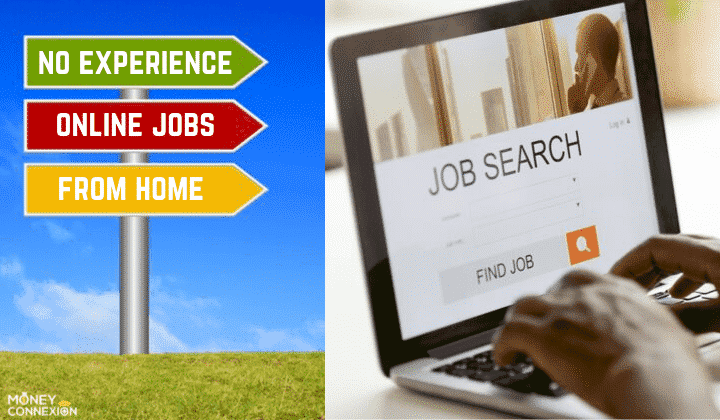 An advantage with no experience online jobs from home is that you can take more than one. This depends upon how much money you want to make. Therefore, consider any of these 50 legitimate work from home jobs with no startup fee.
Writing
Median Pay $25/hour
This is the best & easy jobs that pay well without experience. People with no experience jobs can work online. However, you'll need excellent writing skills and creativity.
1. Content Writer
A content writer creates interesting and relevant articles for websites and blogs. You can work on an assignment or contract basis. Check these websites for content writing jobs. Bloggers and website owners from across the world look for content writers. Hence, you can easily find these writing online jobs with no experience.
2. Freelance Journalist
News organizations worldwide need freelance journalists. You may not have experience. Instead, you'll need that nose for news. You can get a monthly retainer or ask payment on per article basis. Such jobs are available from journalismjobs.com. You can also contact media companies.
3. Copywriter
You needn't have experience to take this fantastic online job from home as a copywriter. Instead, you'll require creative writing skills. Copywriters write catchphrases, slogans and short articles for advertising. Here, workana.com is an excellent website to find such no experience online jobs.
4. Resume Writer
A resume writer as the term says, create fantastic and winning resumes for fresher and experienced job seekers. This is a service which is evergreen and always in demand. You can easily earn up to $25 per hour working as online resume writer. Look for these jobs from home at resumeedge.com. You'll require creative writing skills for this job.
Customer Service
Median Pay $20/ hour
Every company, serious about retaining its market position has excellent customer service. This includes after-sales service as well as customer engagement. While some hire directly, others outsource customer service from call centers at distant locations.
5. Amazon
It would be a shocker if the world's single largest online store doesn't need a work from home customer service job. Amazon does hire work-from-home customer service associates across America.
In fact, it's one of the largest hirers for online customer staff in the USA. Look for existing vacancies in customer care at Amazon through their recruitment portal. They pay amazing per-hour wages and benefits too.
6. American Express
American Express needs no introduction. They offer no experience online jobs from home as customer service executives. Visit American Express recruitment portal and apply directly for such jobs.
7. Visa International
Visa is the single largest credit card and debit card issuer in the world. Hence, they have openings on short and long-term contract basis for work-from-home online jobs. And these are available worldwide. Check Visa global recruitment portal to find one that suits you.
8. MasterCard
Amazing customer service jobs from home are also available across the USA from MasterCard. They rank among the best paymasters anywhere in the world. However, these jobs are available occasionally and on a contract. Hence, you'll have to check their website frequently for such jobs.
9. Charles Schwab Corporation
Everyone in America and elsewhere knows about this gigantic banking and finance company, Charles Schwab. If you've no experience, Charles Schwab can actually help develop talent. Join Charles Schwab Talent Network for free. They'll send you job recommendations for customer service positions at the corporation.
10. Discover
Discover Financial Services is best known for its eponymous credit cards and debit cards worldwide. Since they cater to millions of customers across America, they enlist online, work-from-home customer service agents for various processes. Register online on the Discover jobs portal. If they don't have an existing vacancy, you can still get alerts when a new one arises.
11. Walmart
America's largest chain of superstores, Walmart requires dozens of customer service agents for obvious reasons. They offer both fulltime as well as part-time customer service jobs including online work from home positions to people with little or no experience. Visit Walmart careers portal to look for your customer service job or post your CV online for upcoming vacancies.
12. Neiman-Marcus
Neiman-Marcus is a large American business group that deals in fashion and other stuff. Since they cater to a niche market, they hire online customer service crew that can work from home at various locations in USA. Here too, you'll have to apply directly on their website.
13. Contract World
Contract World hires tele-callers and customer service agents from home for large companies including KFC, Pizza Hut and L'Oreal among others. And they pay well too. Since several companies require customer service crew, they outsource from Contract World. Hence, they always have enough vacancies.
14. Brighten Communications
Brighten Communication's website says the company pays $18 or more per hour to work as a customer service crew. They run call centers for various small and large businesses. While they have their own headquarters Brighten Communications also offers online home-based jobs for women and men with no prior experience.
15. Arise Work from Home
You can earn between $18 and $20 per hour working from home online as customer service agent with Arise Work From Home. They provide customer support services to all kinds of businesses in America. You can register for work through their website. They'll screen your application and provide suitable customer service job even though you have no experience.
16. ACD
ACD is a highly reputed company where small and large businesses outsource their customer service. As a result, you'll always find entry level remote jobs without previous experience in customer service, from their website. All you need do is register online giving certain details. ACD usually reverts within 48 hours, depending on your location.
17. Working Solutions
You can get fantastic, well paid online work from home customer service jobs from Working Solutions. They provide customer support services to various businesses. Therefore, they've no shortage of vacancies. Visit their website and apply online. You can land a customer service job without experience and at flexible hours, within a day or two.
Online Tutoring
Median Pay $25/ hour
Nowadays, online learning or e-learning is something that's rapidly becoming popular worldwide. America ranks among topmost destinations for education. And this holds true for online learning too. Hence, if you're good at teaching but don't have experience, you can work as online tutor.
18. Chegg
Chegg ranks among the topmost destinations for online courses. Their courses are generally for school and college students. They look for tutors that have no experience but are excellent at Math, Science and English subjects among others. If you can teach in a foreign language, you can earn more. Some tutors at Chegg have become millionaires too.
19. Magic Ears
Magic Ears is one of the best website for online tutoring. They pay as high as $26 per hour. You needn't have any experience as long as you have that flair for teaching young minds. This is a company from China. Hence, they require online tutors for American school and high school subjects. This is definitely an excellent website to get no experience online jobs.
20. Tutor
If you're a mom or dad that helps their kids with homework or teaches at home, you can enroll as online tutor. Also, executives and professionals with no prior experience in teaching can tutor on complex topics online. They pay up to $20 per hour for online tutoring, even if you have no teaching experience. It's possible to earn more if you tutor foreign students in English, Maths, Science and other subjects.
SEE ALSO,
How to make money online With Google
21. VIP Kid
VIP Kid is a China-based online tutoring platform. Here, you can tutor students from China on American school subjects, especially English, Maths and Science. VIP Kids pays very well and on an hourly or retainer basis, depending on what you're teaching and how many hours you can work. You can make anything between $15 and $22 per hour with online tutoring through the VIP Kids website. They help you find students as well.
22. WyzAnt
WyzAnt is an online training community that helps everyone from students to parents that don't have experience to become tutors. They pay $20 to $22 per hour for online tutors. It's possible for most people to become an online tutor with WyxAnt even if you have no experience. WyzAnt connects you almost immediately with students.
23. Preply
Preply.com is all about learning languages. If you have expert level fluency in English or any other language, register as online tutor at Preply. You don't need previous teaching experience. However, you'll need good skills to train people how to speak or polish their skills in the language. Some tutors on Preply.com make as much as $550 per month.
24. TutorMe
TutorMe says it pays $16 per hour plus bonuses to online tutors. This is an excellent online tutoring platform if you've any skill that can sell, even if you've no teaching experience. They have different types of courses. Hence, you can easily create a course in the field of your choice whether it's educational or hobby related.
25. goFluent
Teaching a language on goFluent.com doesn't require experience. However, you'll require excellent flair for teaching and expert-level fluency in English or foreign languages. Their language training courses are generally for corporate clientele. Hence, your skills matter more than experience. They pay very well, depending upon nature of your course and skills.
Virtual Assistant
Median Pay ($20/hour)
Virtual Assistant is yet another growing field where you can easily find entry level work from home jobs without experience. Virtual Assistants or VAs work for top executives and businessmen and usually perform secretarial tasks.
26. Boldly
Boldly.com is a superb website where you can register and find VA jobs that match your skills or passion, without any experience. They provide online, work from home Virtual Assistant jobs with large corporations including Amazon, Morgan Stanley, Microsoft, Google, Chrysler, and Pernod Ricard among other giant employers.
27. Belay Solutions
If you're thinking you can't get job without experience, try Belay Solutions. They'll definitely help you get work from home jobs regardless of your experience. They hire Virtual Assistants of all kinds to work for high net-worth individuals as well as large corporations. And you can decide the skills you wish to offer, even if you don't have experience as VA.
28. VOT
VOT or Virtual Office Temps is a superb website if you're looking for temporary placements as Virtual Assistant. You'll have to register on their website and post necessary details of skills you can offer. VOT doesn't look for experience. Instead, it looks for specific skills that entrepreneurs and individuals require from a Virtual Assistant.
29. Virtual Assistant Portal
Virtual Assistant Portal doesn't place you anywhere as VA. Instead, the company hires your services whenever they have a client. Usually, Virtual Assistant Portal looks for people that have excellent skills in handling social media and other online processes that entrepreneurs require. By joining Virtual Assistant Portal, you can work with more than one employer and make enough money.
30. People Per Hour
You'll have to create an account and post an advertisement on People Per Hour to get no experience online job as Virtual Assistant. You can quote own price, depending upon your skills. This allows people that don't have experience as VA to also advertise their services and get well-paying jobs from individuals and enterprises. You can also find VA jobs listed by employers on this portal.
31. Time Etc.
Another superb website to find work as a Virtual Assistant is Time Etc. It doesn't matter if you have no experience as Virtual Assistant because Time Etc., has a free skills assessment test online. Here, you can check whether you qualify to work as Virtual Assistant and have what it takes to make money from this highly profitable profession. They operate across all 50 states of USA. Hence, finding no experience jobs near your location is fairly simple and easy.
Graphic Designer
(Median Pay $20/ hour)
Graphic designers are necessary for a lot of things. They design company logos, designs, and patterns for upmarket product packaging, advertisements and lots more. This is a very special skill. And if you're good at designing, no experience is necessary to work online.
32. Designhill
Designhill is a crowdsourcing website that calls itself the world's No-1 creative marketplace. Visit their website and you'll see their very impressive list of customers. As a graphic designer with little or no experience, you too can offer services on Designhill.
Whenever there's a project that suits your skills, the company will send an alert, once you register. You can get excellent opportunities to work online with graphic designers from around the world. Or you can put up own designs for sale.
33. Hatchwise
Hatchwise is all about creating a company and brand logos and insignias. They also specialize in branding. Hatchwise is also a crowdsourcing platform where you can offer skills as graphic designer. They have created over a million logos for companies worldwide. Hence, Hatchwise has no shortage of customers that would look for graphic designs from you, even if you aren't experienced.
34.110Designs
This is a superb website where any graphic designer without experience can learn and earn. To work online as a graphic designer, you'll need to create an account at 110Designs and enter contests floated by companies. If your graphic design wins a prize, you get the money from the company.
In fact, most participants do make some money by participating at design contests. The more you participate, higher your chances of getting online work as a graphic designer. They design everything from logos to T-shirts and campaigns.
35. 99Designs
With over 97 million designs created by graphic designers worldwide, 99Design is a topmost website where you can find no experience needed jobs as graphic designer. If you're a graphic designer but don't have experience, it's still possible to register. 99Design provides designs for everything from book covers to logos, branding to corporate stationery and much more.
36. Logomyway
With over five million logos for companies and organizations worldwide, Logomyway ranks among the topmost website where you can get entry level work from home jobs on temporary basis. This website is also for graphic designers.
And it's all about logos. You can enter logo creation contests and compete with graphic designers worldwide to win. You get richly rewarded by the company that buys your logo design.
Online Transcriptions
(Median Pay $15/ hour)
Online transcriptions are necessary for various businesses. They are useful for medical facilities including clinics, hospitals, and Emergency Medical Services (EMS) providers. Transcriptions are also needed by lawyers, businesspersons, bankers, engineers, and lots more professions. It involves going through raw data from audio sources and compiling summaries online.
37. TranscribeMe
TranscribeMe is America's largest marketplace for transcriptions of all sorts. They offer excellent work from home online transcriptionist jobs even if you have no experience in the field. And they pay very well too. TranscribeMe pays you by the hour. And you can work during any part of the day: there're no restrictions. However, you'll have to meet deadlines of their clients when you take a transcription job.
38. SpectraMedi
SpectraMedi is ideal for medical professionals such as physicians, nurses, and paramedics that have no experience in medical transcriptions. Instead of your transcribing skills, this website lays emphasis on your medical knowledge. That's because, they provide superior quality medical transcriptions to top hospitals, clinics and EMS providers across USA. You too can enroll on this website and earn money from online transcriptions.
39. Rev
Rev provides excellent transcription jobs on freelance basis, even if you haven't any experience in this field. You'll have to create a free account online before you start receiving transcribing tasks online from Rev.com.
They pay between 36 Cents and 65 Cents per minute of audio or video that you'll transcribe. You can work on flexible timings for Rev. The only care is to ensure you meet customer deadlines.
40. Quicktate
Global news leader CNN, financial major Wells Fargo, soft drinks giant Coca Cola and lots of other Fortune companies are clients for Quicktate transcriptions. And they hire people that have no earlier experience in transcribing.
In fact, Quicktate provides all resources that can make you an excellent transcriber and earn money from this work-from-home online job. It's one of the best employers to work for as transcriber.
Search Engine Evaluator
(Median Pay $15/ hour)
A Search Engine Evaluator's job may sound difficult but it isn't. And the best part of it is you don't need experience to work online from home as Search Engine Evaluator. Google, Bing and Yahoo enlist Search Engine Evaluators frequently change algorithms of their search engines.
Hence, a person using the search engine could end up getting wrong results. The job of search engine evaluators is to find such glitches and write reviews.
41. Appen
Appen is an Australian company with extensive operations in USA and worldwide. They hire search engine evaluators. Appen provides services to various websites and search engines including Google and Amazon's product search.
While the company is known to pay well, there are some negative reports about its compensation systems. However, you can safely join Appen if you don't have prior search engine evaluator experience.
42. Google
Google is the world's single largest search engine. It's owned by Alphabet Inc., a company listed on New York Stock Exchange. It's therefore natural that Google hires search engine evaluators on freelance and fulltime basis through other agencies.
Usually, Google hires search engine evaluators around the world. You can sign up on their website and await their call to work and earn, even without experience.
Other Jobs
(Median Pay $10/ hour)
43. ZipRecruiter
ZipRecruiter is a superb website where you can find countless data entry jobs for any location in USA. Generally, data entry jobs are given to people that live in a specific area since you may have to visit the employer offices occasionally.
Online Translations
44. LinkedIn
As companies expand into markets around the world, they require lots of translation services. If you're fluent in English and a foreign language, you can find several online translation jobs on LinkedIn. You can also look for jobs by creating a personal ad on your LinkedIn account.
45. Rosetta Stone
Rosetta Stone is the most widely used resource for quick, online and real-time translations. Usually, experience isn't really important for verbal translations. And if you're going for written translations, all sorts of resources are readily available to do a professional job. Apply at Rosetta Stone for an online translator job.
46. Bestmark Inc.
If you're fond of shopping and would like to benefit from this passion, register with Bestmark Inc. They enlist mystery shoppers across USA. As a mystery shopper, you'll have to visit an online or offline store and make purchases.
And write online reviews of the experience. You get paid per hour on assignment basis. Sometimes, you get to keep the stuff you've bought and paid by the employer. Mystery shopping can be a great source of income as it provides excellent jobs that require no experience.
47. Buffer
Buffer is an online community that helps small businesses develop an excellent online presence using social media resources. If you're passionate about using Facebook, Twitter, Pinterest, Instagram and other social media resources, this is the right online, work from home job for you. You'll work as online social media manager.
48. AJE
AJE or American Journal Experts require a large number of freelance proofreaders that can work online from home. Usually, they help improve research paper and scholarly articles for writers. You get paid on an assignment basis for proofreading an article for AJE. However, work depends on number of articles they receive.
49. Scribe Media
If you're fond of reading books and can detect spelling, grammatical and punctuation errors, register at Scribe. This is an online resource for authors and provides editing services. Usually, Scribe pays $20 per hour depending upon the manuscript. It's an excellent way to read new books and help improve them before launch.
50. ETS
ETS or Educational Testing System pays you for checking test papers and giving scores of various exams. You can do this job without previous experience, as long as you know what it entails. They pay up to $20 per hour or on project/ assignment basis. However, this work is complex since it involves giving accurate scores.
Closing Thoughts
As you can see, there's no need for experience to get some types of jobs. However, you can develop the necessary experience and skills when you do a specific job passionately and consistently for a long time.
One of the best ways to overcome the handicap of experience is to use your passion or hobby to find a job. It works wonders. Since you're aware of the field, you'll do a great job. Rather than getting worried over a lack of experience, you can apply for any of these jobs and make a decent living. Or you can use these jobs to acquire newer skills.