Transfer code for First Bank. Welcome, We are going to guide you on how to transfer money from First bank to any bank in Nigeria. This is the shortest and cheapest way to send money from First bank. 894 is a quick, convenient, secure and easy way to perform your banking transactions (transfer money, check balance, buy airtime, pay bills and lots more) anytime and anywhere, using any type of phone without need for internet connectivity or data.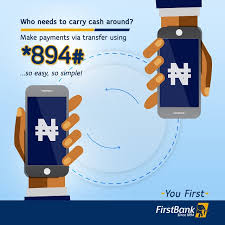 Quick Banking with FirstBank USSD Code *894#
Once you have a FirstBank account with a linked debit card, a phone number profiled for SMS alert and a mobile phone, you are just one dial away from enjoying the unbeatable 894 experience.
To get Started With the First Bank transfer code, Simply dial *894*0#
Customers can also dial *894# and get access to Quick Banking services in a menu-based layout without having to dial the codes.
When dialed, two options are displayed for the customer to choose from:
Quick Banking- Follow prompts to access the listed services for FirstBank account holders ONLY.
Firstmonie- For electronic wallet- based transactions. This product is available to both account holders and non-account holders.
I hope the Transfer code for First bank is very helpful to you.
Related searches
first bank mobile transfer limit
first bank online transfer
how to register first bank transfer code
*904# first bank
how to create 5 digit pin for first bank transfer
first bank 5 digit pin
first bank code to pay bill
how to transfer money from first bank to diamond bank