How to Create an Online Course & Make Money: Often, I would wonder how to create an online course, sell it, and make money. Let me tell you, it is not that easy. Nor is it very difficult.
However, creating a great online course can open doors to riches. There are several examples of ordinary persons who made millions of Dollars simply by creating an online course.
If you have great knowledge about a subject, I recommend you follow these simple steps to create an online course and make money.
How to Create Online Course in 8 Steps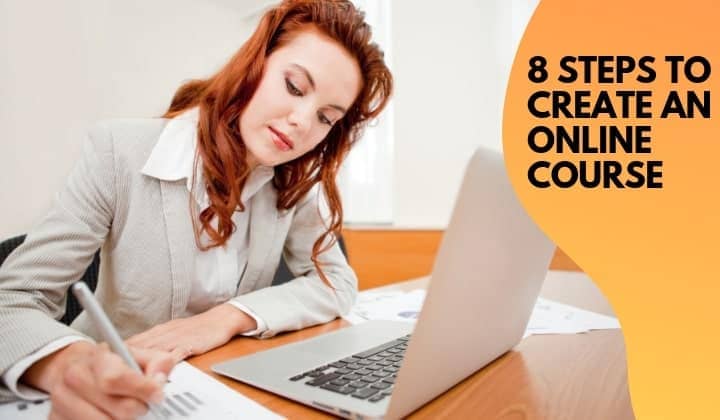 You need not be a teacher to create an online course. But you would definitely need excellent writing and teaching skills. Because, online courses are usually simple and taken by people living in foreign countries too.
Further, you have to create tutorial videos to support your online course. Read my step-by-step guide to create an amazing online course.
1. What You Can Offer
Find out what you can offer people by creating an online course. This means, taking stock of your various skills.
Identifying the topic is fairly simple. You can create an online course to train people about your work or passion. It is not necessary to stick to some professional course only.
For example, a surgeon can create a course on how to win online games.
Search Udemy.com: they list over 100,000 assorted courses. These courses cover almost every sphere of life, from e-commerce development to pet care. You can get some ideas about the type of online course to create for selling and making money.
Shortlist your skills that can be useful to create an online course.
2. Identify Potential Buyers
You may have a great idea and excellent skills to offer. But will there be any takers for your online course? As I mention earlier, creating an online course to make money is not easy.
And here is the first hurdle: finding the right market.
Do a lot of research on the Internet to find where you can sell the online course. The market need not be within your country. Look for courses that are in demand abroad too.
For example, China is an excellent market for English language courses- both spoken and written. In fact, Chinese students are willing to pay good money for an excellent course.
Growing Asian economies, countries in the Middle East and Africa are some of the best foreign markets you can consider, depending upon what you are teaching. Get insights into teaching and online course patterns these foreign students prefer.
Remember, not everyone will have expert level fluency in English language.
3. Draw Marketing Plan
Prepare to face stiff competition unless you are offering some very unique or rare online course. Therefore, a great marketing plan is necessary. There are several options to market your online course.
You can launch your own educational portal and offer the course. Nowadays, domain names and website hosting does not cost much.
However, you may have to spend on web designing and other processes that go into creating a unique learning website. Also, include a payment gateway and other features that provide secure access.
The other option is marketing your online course through learning websites such as Udemy, Coursera, SkillShare and others. These websites will market your online course but charge you a membership fee or commissions for every successful sale.
Further, launching own educational website or selling through others is not enough. You have to let people know about the course. Consider promoting your online course using Facebook, Twitter, Pinterest, Instagram, LinkedIn and other similar resources.
You can also get Google to promote your online course by creating a Google Ads campaign. This is a paid service but you can fix a budget.
SEE
4. Price Your Course
Obviously, you want to make money by selling your online course. Hence, here comes the important question. How much to charge for the course?
Normally, prices of online courses depend upon various factors. They include relevance of the course, duration, content and where applicable, certification.
Here I suggest you visit any online course platforms to look at prices. Check what a course offers- written content, graphics and pictures, videos and voice streams as well as other kinds of tutorials.
If you want to create an online course and make money- really big money- I suggest you include everything such as text, pictures and graphics, voice and videos.
5. Create Online Course
Now that you have all the necessary and important information, go ahead and create online course. Understandably, this is the toughest part. All the information in your head needs to be put on paper or rather, a computer in the right format and sequence.
Create graphs and use pictures you have taken in the course material. These graphics and pictures help you to highlight certain points. Also make videos and voice recordings.
If you have a superior digital camera, great. If not, try using that camera on your smartphone. You can buy an inexpensive tripod for placing the camera or smartphone to make video tutorials.
Edit and proof read all your course material. Correct any errors and get the final proofs ready.
I would like to offer one major tip to create an online course: never hurry. It can take several weeks to create a fantastic online course.
6. Run Course Trials
Before you put the course online through own website or an eLearning portal, run trials. You can offer it for free within a small group. Invite their comments and suggestions. These users may be able to guide you to make some improvements or include features you miss.
Test whether the course is student friendly. You can also give exams to your free trial students and find how much they learned from your online course.
Personally, I would not recommend anyone that to create an online course to market it without trials and tests. Of course, testing may take some time. Yet, it will help iron out any errors, glitches and cover up grey patches.
7. Sell Your Course
Obviously, this is the day you are awaiting. Upon completion of trials and fine tuning, your online course is ready to make money.
Take your own time to upload the course carefully on your own website or eLearning platform. Ensure you do not jumble up the text, pictures, graphics and videos. They should be in a proper sequence.
You can accept payments via PayPal or other methods. If an eLearning platform will market your course, you need not bother about payments. They will deposit your money by PayPal or any other legit method after making a confirmed sale.
8. Update Your Course
Updating and upgrading your course is extremely important. Nowadays, everything changes quickly. Unless you update the online course frequently or when necessary, it will become irrelevant.
This means, you will find no takers. Your time, effort and money will go waste.
Whenever you update a course, remember to inform students immediately. You can do so by using automated mail.
In Conclusion
Global eLearning industry is projected to touch the US $325 billion mark by 2025. Surely, you would want a slice of this tremendous market.
Creating an online course is not expensive, unless you want to buy stuff like cameras, recorders, microphones and other paraphernalia. By following these simple steps, you too can create an online course and make money.
I hope the article above, on the topic 'How to Buy and Sell Websites and Make Profits ', was very helpful to you. The above information was gathered from different sources to serve you better. kindly share it with friends on any of the social media below.